Les meilleures pistes cyclables de Montréal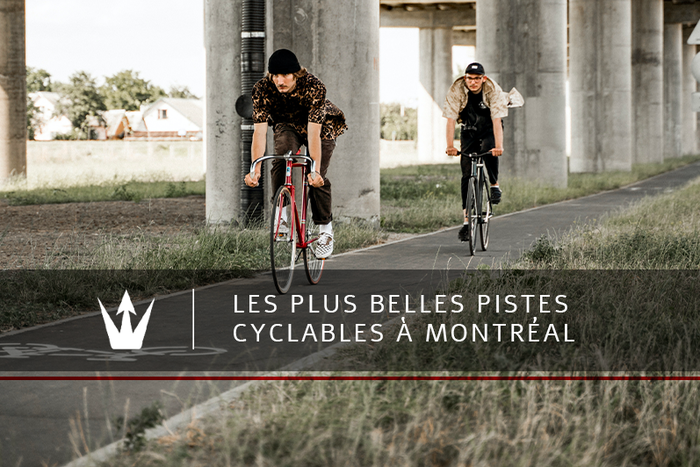 Montréal est une ville colorée facilement accessible en vélo, qui regorge d'activités culturelles et de points d'attraction intéressants. C'est en effet plus de 889 km de pistes cyclables qui permettent à tous de visiter les quatre coins de la ville, en passant par les artères principales et les rues les plus achalandées, aux espaces verts et à un vaste réseau de commerces. C'est simple, on peut aller partout à vélo à Montréal, en plus de pouvoir traverser vers la Rive-Nord ou la Rive-Sud en empruntant les pistes cyclables des ponts et viaducs. Donc, il est maintenant temps de découvrir les meilleures pistes cyclables de Montréal. 
Le REV, un réseau de pistes cyclables sécuritaires
Pour visiter les principaux centres d'attraction de la ville de Montréal, il est possible d'emprunter le Réseau Express Vélo (REV). Divisé en plusieurs axes, ce réseau de pistes cyclables offre des voies cyclables sécuritaires et indépendantes aux routes des véhicules. Le REV est composé de 184 km de pistes cyclables, offrant ainsi une façon amusante de visiter les quartiers les plus populaires de la ville. 
Le premier axe du REV traverse Montréal du nord au sud, du boulevard Gouin à la rue Roy et relie la rue Saint-Denis, la gare intermodale Sauvé, le marché Jean-Talon, ainsi que les bibliothèques Marc-Favreau et du Plateau. Un autre axe permet de relier la rue Honoré-Beaugrand à la rue Hector en passant par la maison de la culture Mercier et l'aréna Clément-Jetté. L'axe de Bellechasse, quant à lui, relie l'avenue de Gaspé à la rue Châtelain, en passant par plusieurs bibliothèques dans le secteur de Rosemont et de La-Petite-Prairie. 
L'axe Peel, qui est un projet en développement, traversera le centre-ville de Montréal pour relier le Quartier des gares, le secteur Griffintown, l'université McGill et Concordia, le centre Bell, la rue Saint-Catherine, ainsi que plusieurs stations de métro et REM. Plusieurs autres axes projetés seront bientôt ajoutés au REV d'ici quelques années.
Empruntez les meilleures pistes cyclables de Montréal 
Circuler à vélo à Montréal sur l'une des nombreuses pistes cyclables n'est pas seulement « bon pour la shape! », c'est aussi une façon de se déplacer qui réduit les gaz à effet de serre en évitant de prendre son véhicule et, du même coup, atténuer la pollution sonore et visuelle. Prendre son vélo offre également un meilleur accès au centre-ville et aux points d'intérêt, comparativement à circuler en auto, surtout durant les heures de pointe. 
C'est en tout plus de 3450 km de pistes cyclables qui parcourent Montréal et les environs, de Oka à Saint-Hilaire, et qui permet de profiter de l'été (et de l'hiver!) par un moyen de déplacement agréable et sécuritaire. Chez Ride Bike Style, nous offrons un vaste choix de vélos électriques et de vélos électriques vintages qui transformeront votre été en une longue balade en plein air! 
Be the first to comment...